Exhilarating, but also moving and powerful! Taking part in the 54th International Paris Air Show last week in Le Bourget will go down as an important moment in the SolarStratos adventure.
Having Europe and Switzerland's electric and solar-powered aircraft present at the most important aeronautical event in the world showcased the SolarStratos mission and conveyed its message to the giants of aviation.
A grain of sand to show this gigantic economy (India for example signed a contract for 500 Airbus!) the immense potential of electric power for a low-carbon future for aviation and the planet.
In addition to President Emmanuel Macron of France and 3,000 journalists, the International Paris Air Show attracted 400,000 visitors! Here are some of the highlights experienced by the SolarStratos team and its partners – Longines, Présence Suisse, the Canton of Neuchâtel, InnoVaud, and CSEM – in the 600 m² tent on the tarmac at Le Bourget.
Pioneers' Evening:
back to the future
Being a pioneer today goes hand in hand with great respect for those of yesteryear. Our Pioneers' Evening at the SolarStratos stand attracted a prestigious group, including extreme sportswoman Géraldine Fasnacht, explorer Bertrand Picard, solar navigator and pilot Raphaël Dinelli, astronaut Jean-François Clervoy, pilot Gérard Thevenot, navigator and mountaineer Eric Loizeau, and pilots Jean-Baptiste Loiselets, André Borschberg and Hervé de Saint Exupéry. Thank you to all those who honoured us with your presence.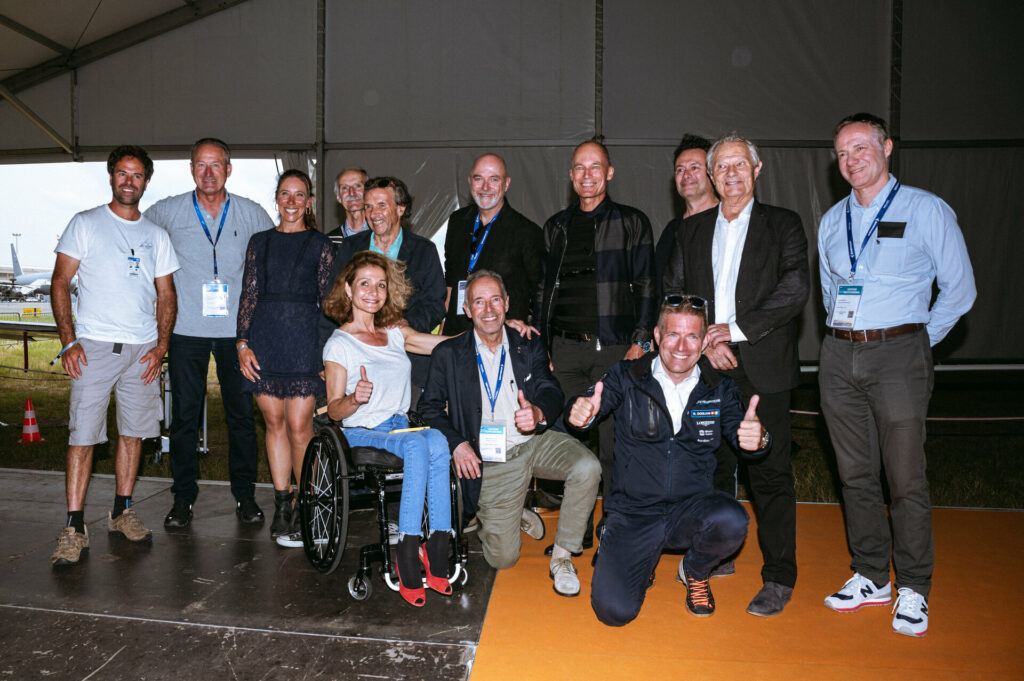 Thank you, Mr "How Does It Work?"!
He arrived with a spring in his step, barely out of breath, ahead of his young cameraman. Welcoming Michel Chevalet, visiting the SolarStratos stand as a reporter for the Canal + channels, is no small thing. At 83, the French science journalist who inspired generations of television viewers with his legendary question "How does it work?" remains as passionate as ever about his subject. SolarStratos – or "solar albatross" as he calls it – excites him, and he salutes Raphaël Domjan's passion. "Going up there, where you can see the stars and the shape of Earth below you, I did it with Concorde back in the day," he said. "To do it with solar energy is edifying."
At the end of the interview, the two enthusiasts thanked one other. And then they hugged. A symbolic moment that sent shivers down the spine of more than one onlooker!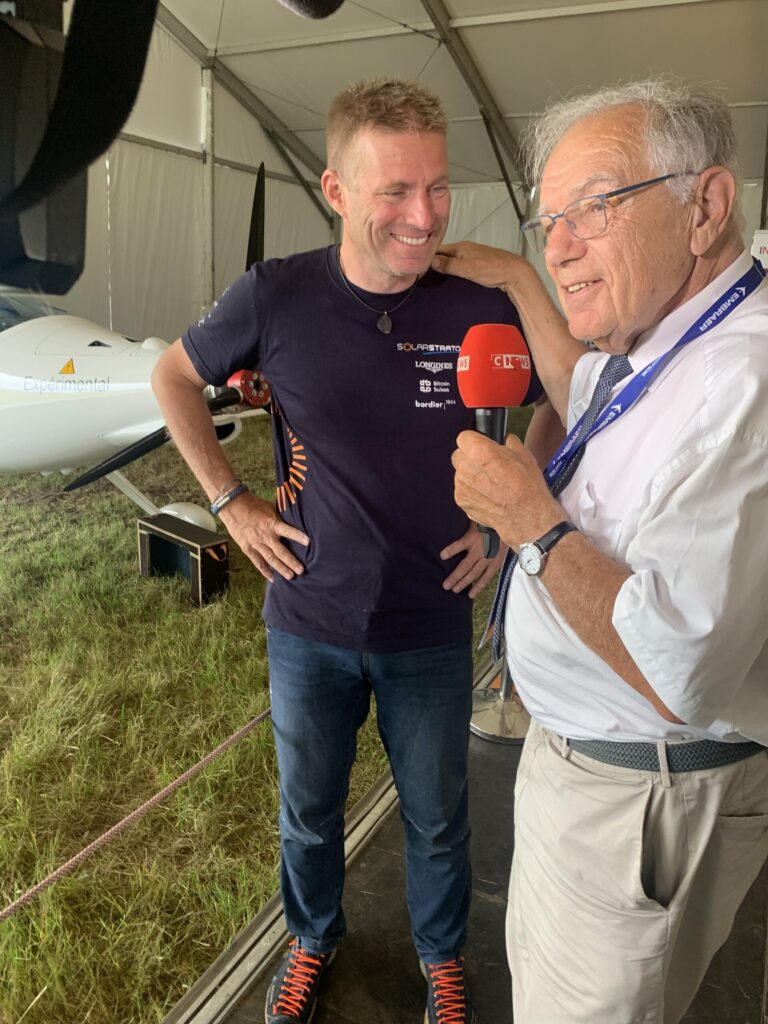 A new lease of life in our media impact
Even before take-off from Le Bourget, France 2 set the world alight with magnificent images of HB-SXA in flight, filmed at Payerne. On the opening day, RTS broadcast a report in its 19:30 programme. Alain Rebetez wrote a hard-hitting full-page article in 24 Heures. Plus, we had coverage on France Inter, Europe 1, etc. At times, the SolarStratos stand felt like a press centre!
Raphaël Domjan, who is very committed to the objective of sharing the mission with the younger generation, was delighted with the coverage – two six-page special issues – published by the children's magazines L'Actu and Mon Quotidien. A nice boost in media impact!
HB-SXA simulator:
the dream lives on!
It is instantly recognisable. Our three-axis flight simulator, with its triple screen arrangement, is always eye-catching. And it was the envy of young and old, even among the panoply of exhibits and experiences on offer at the Paris Air Show. Sadly not everyone had the opportunity to take the controls and fly over Le Bourget during the two daily sessions on offer, but the dream lives on!
Thank you, Le Bourget!
The gigantic scale of this world aviation showcase, its ultra-secure entrances and the constant stream of professionals and visitors, did not rule out some fun and friendly moments. Even on the social networks! The Show's communications team relayed a picture of the SolarStratos team jumping with joy on the opening morning. We thanked Le Bourget and they thanked us back!
Don't miss the SolarSratos aftermovie at Le Bourget, here: https://vu.fr/SXCS