Sunshine in October saw the successful completion of the 2022 test flights
After the summer's record-breaking sunshine, October brought even more, allowing us to bring our 2022 test flight programme to a close. With the stratosphere the ultimate goal, each flight is a new challenge, and every test is carried out (batteries, variable pitch propellor, speed, vibration, etc.) to fine-tune, adjust, and modify the aircraft's behaviour and to master the technical parameters. To find out all about our exciting month, fasten your seatbelts – it's time for take-off!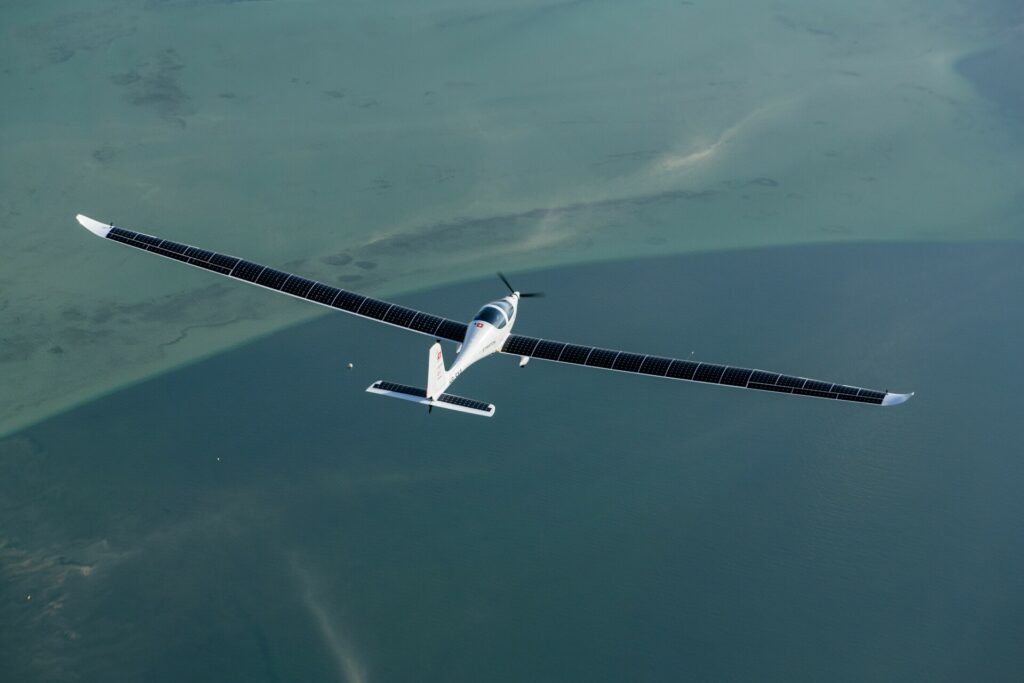 In 2022 SolarStratos clocked 22 flights and 14 hours 18 minutes of flight time
In figures, here is a summary of the flights this year: Including the test flights, plus events such as the first wingsuit jump from an electric and solar aircraft in June in Verbier, and the first inter-city flight in May from Payerne to La Chaux-de-Fonds where the plane landed at 1,000 m of altitude, HB-SXA achieved 22 flights and 14 hours, 18 minutes of airtime. During the month of October, Raphaël Domjan and our test pilot Gérald Ducoin notched up a further five flights. Since the project launch, the team has achieved 68 flights.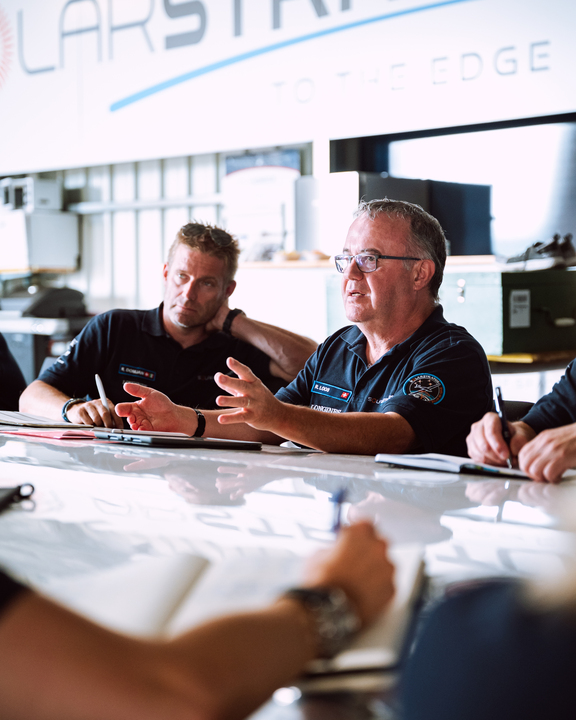 New elements successfully tested
Two technical developments were signed off during the five test flights in October: The new battery configuration was successfully tested and approved by the Federal Office for Civil Aviation (FOCA) as required for aircraft modifications. And the new propellor was used in flight. In addition to the fact that it has variable pitch – which remains to be tested in flight – its diameter has increased from 1.75 m to 2 m. As the thrust of a propellor depends on the surface area of the blades, you can imagine that HB-SXA has gained in propulsion. Look out Stratosphere, here we come!
A Partner Evening that inspired
"What makes a project like SolarStratos so exciting is…"
This was the question put to guests at the Partner Evening hosted on 4 October at the SolarStratos base, and their answers were inspiring, and a great source of pride!
Excerpts:
• Thierry Linder, CEO Marti Arc Jura: "The challenges of this project make you dream. Plus, it demonstrates that we must change our behaviour, right away. Otherwise, we're heading over a cliff edge!"
• Léo Udodove, Relationship Manager Bitcoin: "To be able to leave the atmosphere, and to leave the planet powered solely by solar energy is a dream! Everything becomes possible. Why not travel to Mars using solar energy? Solar energy allows for everything, all hopes, without limit!"
• Massimo Fiorin, Director of Swiss Aeropole Payerne: "The dream with this project is to show young people that we can fly with clean energy. And therefore, to continue to dream of flying. With SolarStratos, aviation is no longer dirty. The desire to fly is no longer shameful!"
As you can see, very inspiring…!
You can read more from our partners on our social media channels:
On LinkedIn: https://cutt.ly/cNjZSKX
On Facebook: https://cutt.ly/1NjCYSx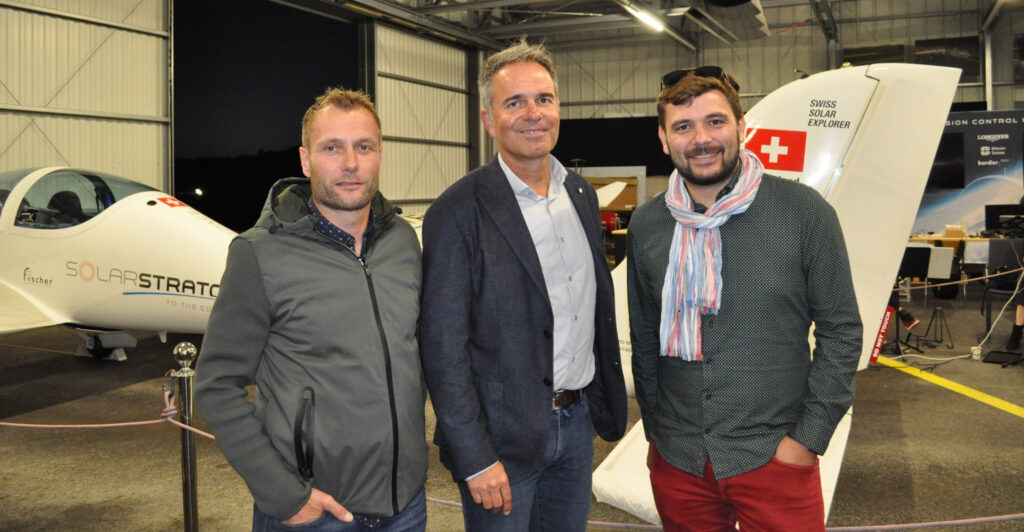 Limmattal Economic Forum
Raphaël Domjan was invited as a guest speaker to the Limmattal Economic Forum (WIPO 2022) on 20 October to present SolarStratos. Sitting next to Federal Councillor Guy Parmelin, head of the Federal Department of Economic Affairs, Education and Research, the HB-SXA pilot was able to discuss the mission with the Minister. "I am very happy to have had the chance to show him the extraordinary opportunity that solar energy represents for our future," he said. Launched in 1999, WIPO welcomes around 800 participants from business, politics, and industry every year.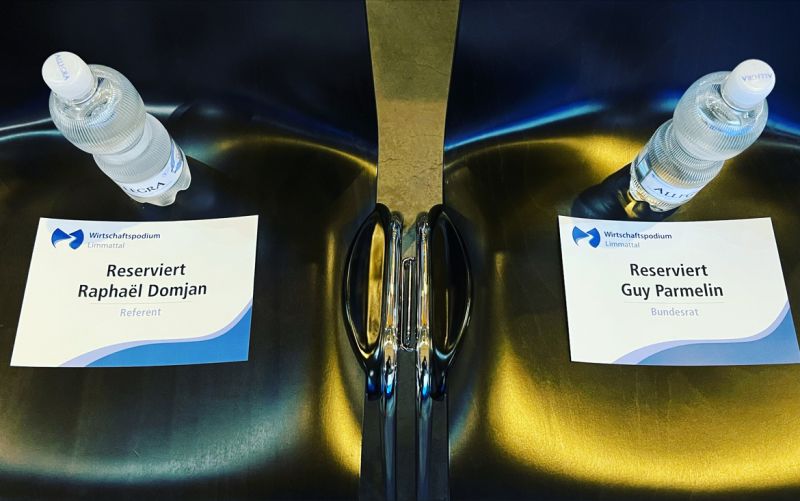 Écrans de l'aventure in Dijon: "As long as there are adventurer-explorers left"
Raphaël Domjan had the privilege of chairing the Écrans de l'aventure festival jury in Dijon from the 13-16 October. He was impressed by the quality of the subject-matter presented and the crowd gathered at the event. "It is a pleasure to see that adventure still makes the young and the not so young dream," he said. Our president also expressed his delight with the prizes that were awarded along with his fellow jury members Bouchra Baibanou, mountaineer and lecturer, Florence Saugues, grand reporter, Antoine de Suremain, adventurer and director, and Philippe Lafaix, author and director. The 2022 Golden Fleece Award (Toison d'or) for Adventure Film went to Yukon, a white dream (un rêve blanc) by Mathieu Le Lay. The Ushuaïa TV / Les Écrans de l'aventure Prize went to Fly Monarca, directed by Benjamin Jordan and Lyndsay Nicole, a film about crossing the United States by paraglider. For the full list of awards, please click here: www.lesecransdelaventure.com
HB-SXA makes the media rounds
The Keystone-ATS agency joined us in Payerne on a test flight day and the base was transformed into a movie set with the aircraft as the star of the show! The resulting film poster-style photo, news release and video news report were picked up by key Swiss media. SolarStratos continues to have star power! To see the video (again), please click here: https://cutt.ly/UNlhr23