The pressurised spacesuit is tested
Our pilot, Raphaël Domjan and CEO, Roland Loos, visited our partner Zvezda in Moscow this month to continue to test the spacesuit that will be used for the SolarStratos stratospheric flight. This phase was a major challenge for Raphaël as the suit was pressurised and the test simulated a flight in stratospheric conditions lasting more than seven hours.
It was extremely demanding from a physical point of view, but hugely successful!
By the end of the seven-hour test, Raphaël emerged from the model aircraft, the altitude chamber, and the pressurised suit, exhausted but delighted with the results. Our pilot also took this opportunity to submit two watches from our partner, Longines, to stratospheric conditions.
This was an important step in the conquest of the stratosphere and bodes well for ongoing preparations.
We never stop learning
We realise that we mentioned this a few weeks ago, but please bear with us as we revisit the topic and give you an insider's view of the successful 2021 flight campaign.
The SolarStratos team worked tirelessly to ensure that every solar plane outing was a success and in doing so, gained a great deal of experience from the numerous flights that will benefit the future development and learning in all areas.
Throughout the 2021 flight campaign, the pilots, the technical team, the communications and sponsorship team – every team member was able to familiarise themselves with the potential challenges of the SolarStratos project and to gain unparalleled insight and experience. Conquering the stratosphere aboard an experimental solar aircraft is a permanent learning process, and one that is highly motivating!
As this incredible season draws to a close, the team is ready for the next phase and is looking forward to the next flight campaign in 2022.
SolarStratos gets some TLC
During the winter months, our solar aircraft will be carefully tucked up in the warmth of the SolarStratos base, where our technical team will fine tune some technical aspects of the design, in particular the integration of photovoltaic components and improvements to the telemetry.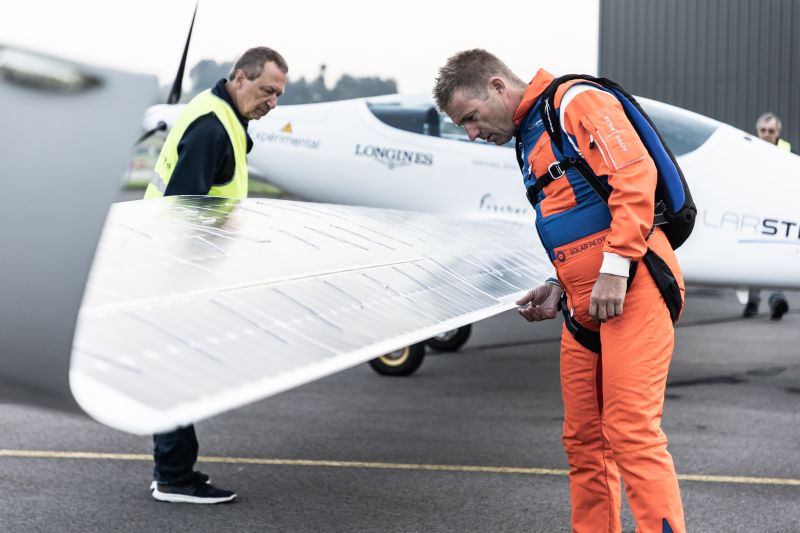 "Solar Energy Pioneers and Adventurers" exhibition opens
On 11 November, the PlanetSolar Foundation invited partners and eco-donors to the opening of an exhibition dedicated to solar energy pioneers and adventurers. The evening, attended by our eco-explorer Raphaël Domjan and Christian Brunier, the Director General of our partner, Services Industriels de Genève, who made the space available at the Quartier Libre SIG, was a great success and enjoyed by all.
The exhibition is open to the public until 10 April 2022. Admission is free.
For full details, please go to: https://ww2.sig-ge.ch/actualites/pionniers-de-lenergie-solaire-une-exposition-de-la-fondation-planetsolar
Christmas is on the way!
For those little end-of-year gifts, don't forget that our online shop offers a variety of products that combine fun with a contribution to our solar mission!