First flight using the space suit!
Despite very little sunlight, SolarStratos is back in the air and flying with Raphaël Domjan at the controls of the aircraft under the close supervision of test pilot, Miguel A. Iturmendi. Between them, they have completed more than 10 test flights this year, two of which have lasted over an hour.
Raphaël wore the special space suit designed by our Russian partner, Zvezda, for the first time in flight this summer, and although the suit was not pressurised, it was a great opportunity to familiarise himself with the clothing that will protect him from extreme temperatures when he reaches the stratosphere. The trial went without a hitch!
"I am very happy to have been able to test the space suit in flight. Of course, I will need to get used to wearing it; the feeling and mobility of your arms, hands and legs is quite different, but the team always does such an incredible job of allowing us to evolve with every flight. It's awesome!"
Raphaël supports the Swiss Solar Boat team
As godfather to the Swiss Solar Boat team, Raphaël travelled to Monaco this summer, to congratulate the EPFL and HEIG-VD collaboration for their second place at the International Monaco Solar and Energy Boat Challenge. It was a great opportunity for our eco explorer to convey the support of the PlanetSolar Foundation and to return to the principality that hosted the departure and subsequent return of the pioneering catamaran during its first solar-powered circumnavigation.
For more information, please go to the Swiss Solar Boat website: https://swisssolarboat.ch
De St-Exupéry flies electric
History is beautiful and it is being written now! For the first time, Hervé de St-Exupéry, grandnephew of Antoine, and a writer, poet, and aviator in his own right, flew onboard an electric aircraft, accompanied by Raphaël Domjan, who is a big fan of Le Petit Prince! It was a special moment for Raphaël who grew up on the stories of Antoine de St-Exupéry's Le Petit Prince and which gave him his passion for flying, ever higher and ever further.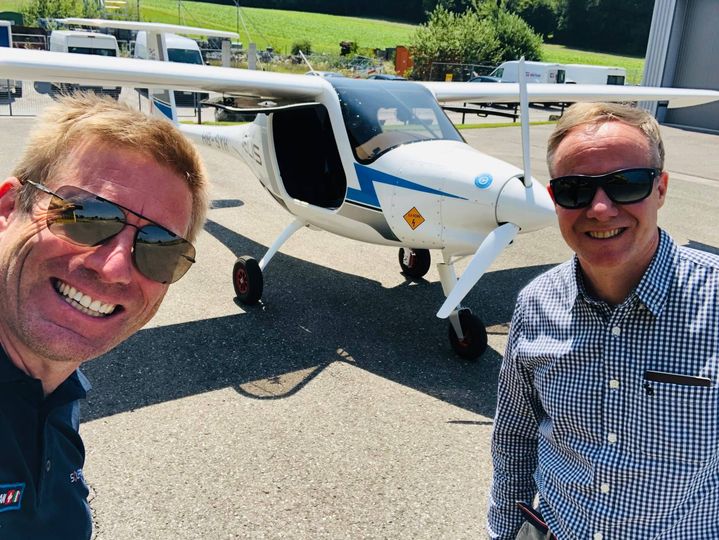 Raphaël Domjan and SolarStratos become social media stars!
The July edition of L'Illustré featured a 'best of Instagram' story that published a photo from Raphaël's Instagram account of Raphaël and Anne Hidalgo, Mayor of Paris, attending the Viva Technology Show earlier this year.
Don't miss a moment of our extraordinary adventure, join us on social media! Even our social media platforms are solar powered, as we use the hosting site that was created by Raphaël and Alexis Domjan 20 years ago, called horus.ch!
Follow us: @SolarStratos
Fly with us – LIVE!
The SolarStratos team has a Mission Control Centre located at the heart of the operational base in Payerne fitted out with a LIVE Cockpit so that the team can follow the progress of the aircraft in flight.
This LIVE Cockpit is now available to all via our website: www.solastratos.com. Please feel free to come and experience solar powered flight in real time!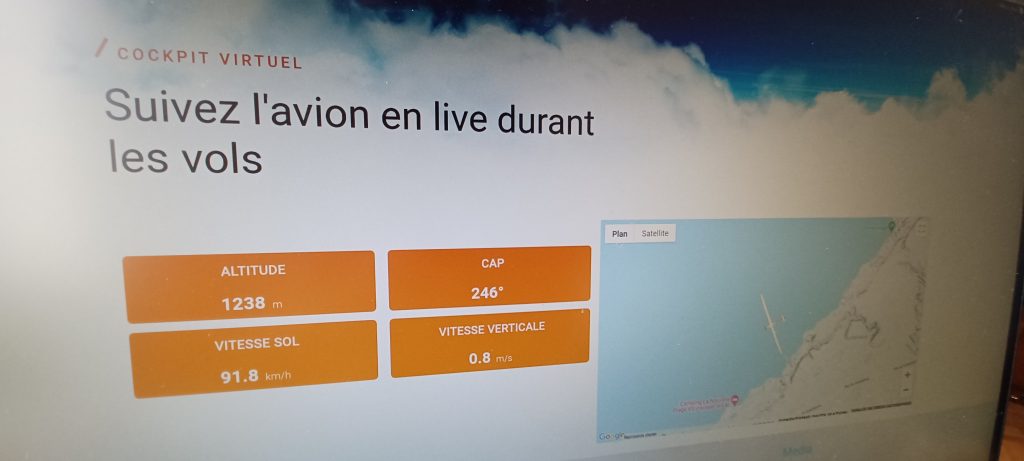 A solid partnership with Marti Arc Jura!
Welcome onboard to Marti Arc Jura, who joins our solar adventure as an Official Supplier! We are delighted to have the support of this subsidiary of the Marti Group that was founded 100 years ago in Bern and whose philosophy is to maintain lasting relationships with all its service providers and its environment.
Marti Arc Jura has dared to innovate and invest in ecological techniques and technologies for many years. They built the first concrete solar plant in Switzerland, and they recover and recycle materials to provide products that are more environmentally conscious. These values unite us to meet the challenge of the transition to solar energy.