Digital communication
Raphaël Domjan has always said: "SolarStratos is a communication tool that makes it possible to highlight the potential of solar energy, aviation and the mobility of tomorrow." With this in mind, and in view of the ongoing development of the project, an increased social media presence is essential.
To this end, SolarStratos is implementing a new approach focused primarily on digitalisation. The implementation of a new strategy, created in collaboration with the company, Up To You, will increase SolarStratos' presence across digital platforms with the objective of boosting its message and ultimately, increasing its visibility and that of its partners. The aim is to develop a fun and dynamic audience that can identify with energy transition and the solar challenge.
The emphasis on digital communication further strengthens the institutional communications already in place.
Come and find us on:
Facebook, Instagram, Twitter, LinkedIn, YouTube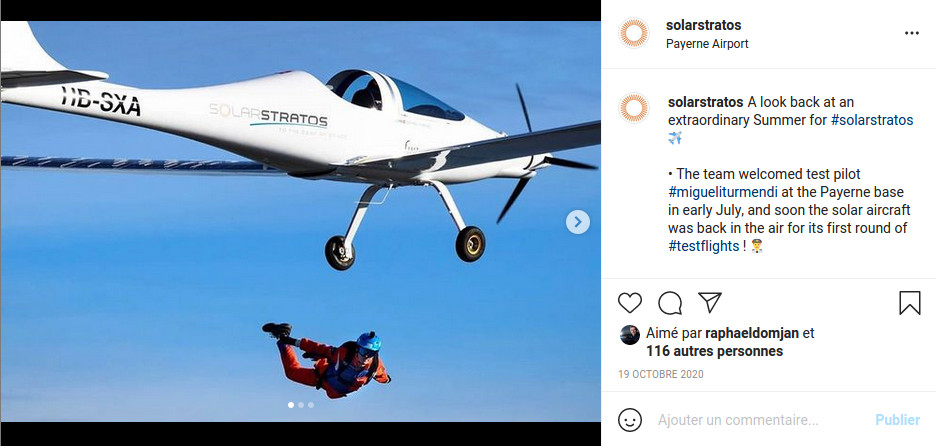 New website
On the 3rd of May, SolarStratos will launch its new website created in collaboration with new partner, communications agency Diabolo Design. The new look site will be more intuitive and adapted to current needs. It will also allow for easier navigation. There will be competitions, and the chance to fly virtually with SolarStratos, plus information on the team and all the latest news on the eco-adventure.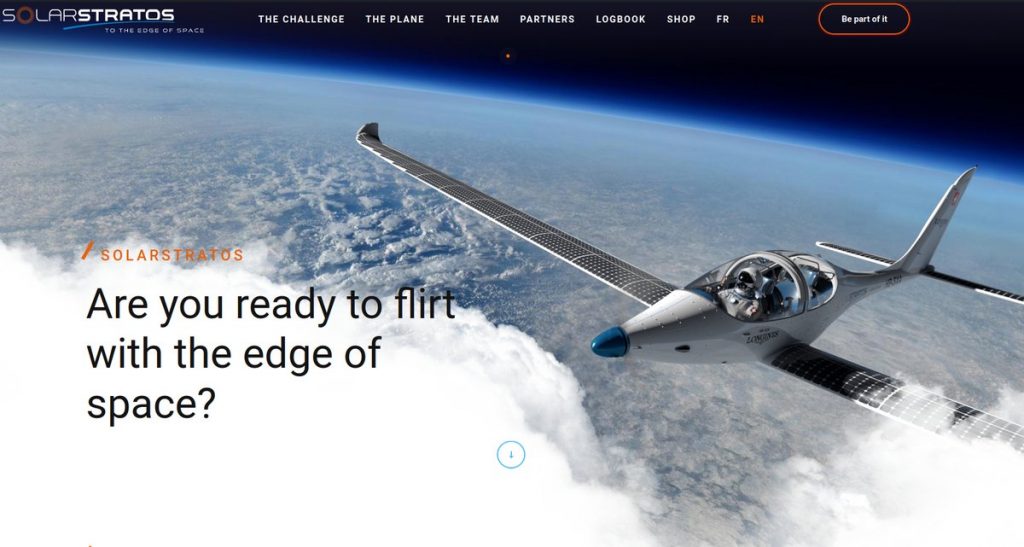 Film preview
Following the relaxation of pandemic health measures in Switzerland, SolarStratos was able to publicly air a preview of the documentary about the project at the new Explorit centre located at the heart of the Y-Parc in Yverdon-les-Bains.
This was an opportunity for guests to discover the area within the centre dedicated to SolarStratos and the PlanetSolar Foundation, and to watch the 52-minute documentary called 'The Birth of a Dream' that tells the story of the SolarStratos Mission from the inside out. The film is directed by Stéphane Chopard and produced by the Gédéon team.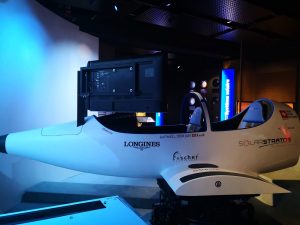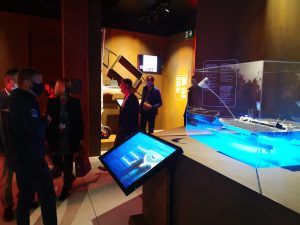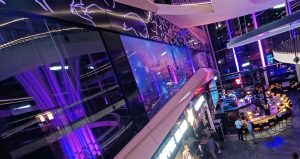 Flying electric!
As part of a programme about innovation in Europe by France Télévisions, a TV crew recently shadowed Raphaël Domjan during his preparations and training. The two-day shoot coincided with our pilot introducing an airline pilot to electric aviation and executing a successful parachute training jump.
The flight took an educational turn as Raphaël introduced Patrick Senn, an experienced airline pilot, to the possibilities of electric aviation. It was a wonderful flight and a great opportunity for an exchange of ideas between two pilots and friends.
For the parachute jump, Raphaël was accompanied by Géraldine Fasnacht, a wingsuit pilot in her own right and the SolarStratos in-flight safety manager. The two enjoyed an incredible tandem jump from a Heli-Lausanne helicopter with the city of Lausanne and Lake Geneva as a backdrop.