Raphaël Domjan, founder and future pilot of the SolarStratos solar aeroplane, achieved the first ever jump from an electric plane this morning in Payerne. He also made the first solar-powered free-fall of all time.
Raphaël Domjan and the SolarStratos team achieved two world firsts this morning in Payerne.
Exclusively powered by solar energy, the experimental aircraft took off from the Broyard airfield at 7.40 am, with test pilot Miguel A. Iturmendi and Raphaël Domjan, initiator and future pilot of SolarStratos.
After a short climb and after reaching an altitude of 5000 feet (1520 metres), Raphaël Domjan threw himself into the void, freefalling several hundred metres and reaching a speed of more than 150 km/h before landing in front of the team base and an array of guests.
Two world firsts were achieved during this historic flight: Raphaël Domjan made the first jump in history from an electric plane and also accomplished the first solar free fall, without any CO2 emissions.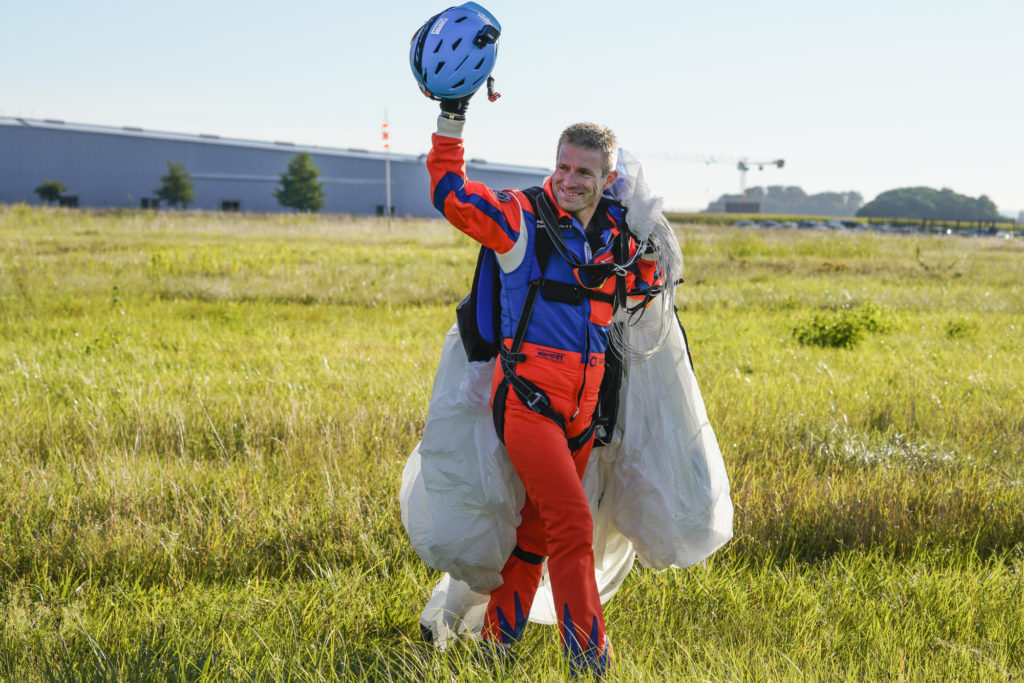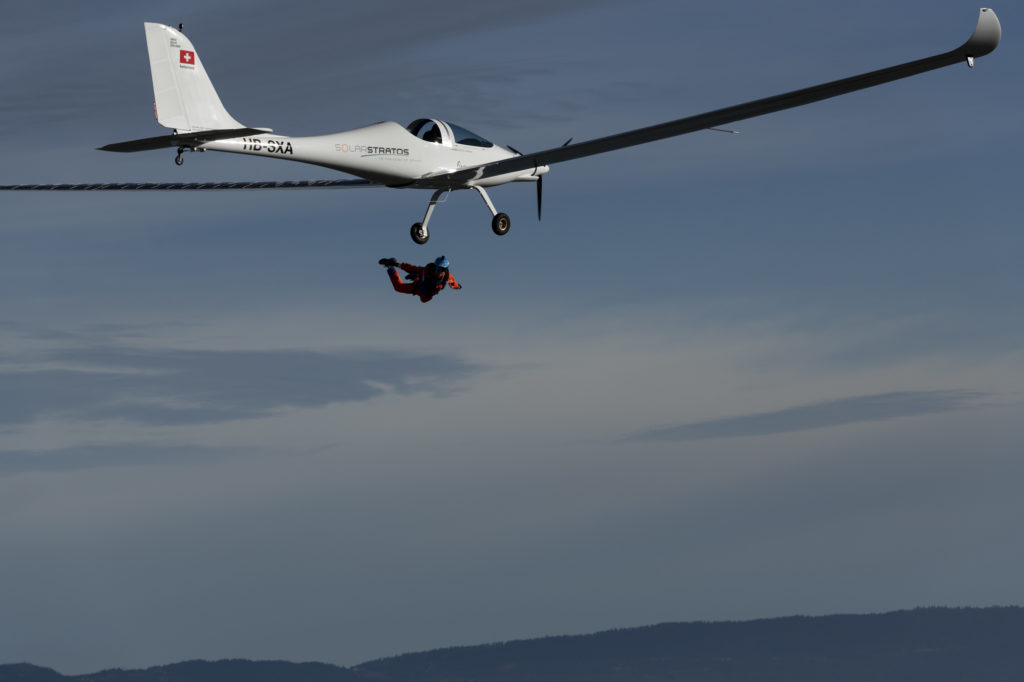 "I am very proud of this achievement", said the Neuchâtel explorer and lecturer. "Our aim is to demonstrate the potential of solar energy and electric mobility. It is a message of hope for future generations: tomorrow they will still be able to dream and carry out activities such as parachuting, for example, but without greenhouse gas emissions and in absolute silence. I have always been fascinated by aeroplanes and I hope that this will continue to make the young people of tomorrow dream, thanks to aircraft that are more respectful of our planet and our climate."
Very impressed by the recent progress of SolarStratos, and sensitive to the image conveyed by the SolarStratos project, Nicolas Bideau, Director of Presence Suisse, said he was very moved. "One of my roles is to find ambassadors for Switzerland, who convey a positive image of our country. Historically, Switzerland was built by pioneers who took risks. This project reflects the power of dreams, turned into a concrete project for our country."
Passionate about the SolarStratos adventure, Bertrand Piccard is "always happy to see people realise their dreams.  What Raphaël does is fantastic", he says. "His project illustrates the new cycle that now characterises aviation, which must imperatively adapt to renewable energies."
Representing the International Aeronautical Federation, Alphons Hubman, states that he is "always on the lookout for new technologies. The SolarStratos project illustrates this new trend with a pioneering spirit. What they have achieved is extraordinary".
The world premieres of the SolarStratos team were broadcast live on live TV, and can be viewed below: