The SolarStratos aircraft: an experimental model
After a series of test flights, the SolarStratos aircraft will spend the winter months in a computer modeling phase. The engineers are planning both technological improvements and full-scale transformations, focused mainly on rudder and horizontal tail. SolarStratos will spend a few weeks in Berlin during this period, before returning to the base in Payerne at the end of February 2018 to continue with the test flights.


Jean-Francois Clervoy visits the SolarStratos headquarters
"If you want to build a plane, give birth to the desire for the sky in the hearts of your men and women." These are the first words that Jean-Francois Clervoy, European Space Agency astronaut and godfather of the SolarStratos eco-adventure, said to the team during his visit to the SolarStratos headquarters in Yverdon. These words, drawn and adapted, from a famous quote by Antoine St-Exupery, reflect the state of mind of the entire SolarStratos team, not just the desire, but the enthusiasm that each person brings to the project. Jean-Francois Clervoy also spoke of his support and admiration for what he calls "an adventure that is both human and technological" and reminded everyone that the challenge is daunting for Raphael, who will be the first "stratonaut" in history!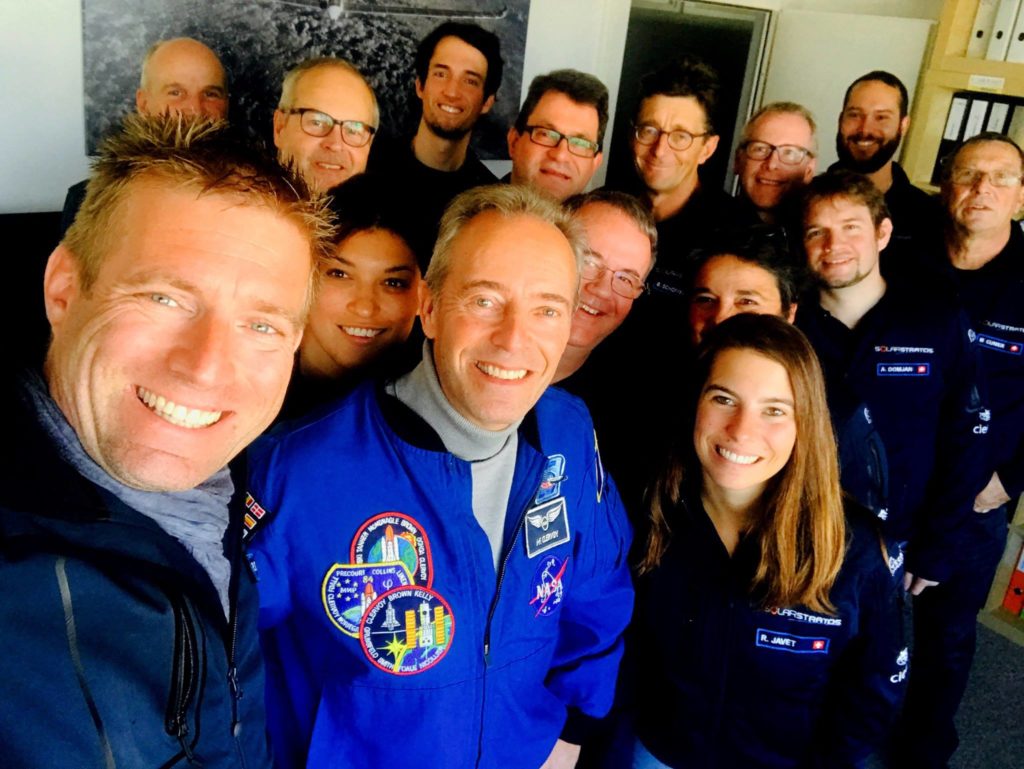 A shed, a team, a raclette
The SolarStratos mission is not only a technological challenge. If Raphael's words are to be believed, then the project would not get off the ground without a multitalented, motivated and enthusiastic team. To thank the group, the eco-explorer hosted a 'raclette' party at the Payerne shed; a great opportunity for the whole team to get together for an evening and to recap on the achievements of the year.
We were there !
If we tell you that we are in Payerne, that's nothing new. However, if we tell that you we visited to the Comptoir broyard, from 17 – 26 November, well, thats something new!
Our CEO, Roland Loos, got the honor to cut the traditional ribbon during the event's opening ceremony.
Other highlight: Raphaël made multiple appearances on our partner Soleol's' stand. Our eco-explorer did several flight-test exhibitions on SolarStratos' flight simulator, with lucky visitors. There were some pleasant encounters and great exchanges with the public.
See you soon!
The SolarStratos team.