In Treasure Island, Robert Louis Stevenson wrote that "discretion is of prime importance to succeed in any venture.1" As 2015 draws to a close, I would like to pay tribute to this quotation and its author, as it very much sums up how we have gone about things this year. We have certainly been discreet, but by no means inactive. So here is a review of 2015…
The first solar flight
With the spring came the opportunity for our first solar flight! I went to see our friend and partner Calin Gologan from PC-Aero in Germany, where an Elektra One plane awaited me. Although the weather conditions were not ideal, I was able to start up the engine and gain altitude, powered only by the energy of our sun, which was there even though it could not be seen in the sky that day. To be honest, my feelings were rollercoasting from excitement to fear – and how delighted I was to land safe and sound! Let's just say that I was nervous about the first solar flight, but I'm looking forward to my next round of "helioplaning"!
Construction of the SolarStratos HB-SXA aircraft
Now that I've mentioned PC-Aero, I might as well continue by telling you about the construction of the aircraft. As announced last year, the funds necessary to build the first SolarStratos solar plane prototype allowed work to be commenced at the beginning of the year. We hope to be able to present SolarStratos to you during the summer of 2016, and carry out our first flights before the autumn.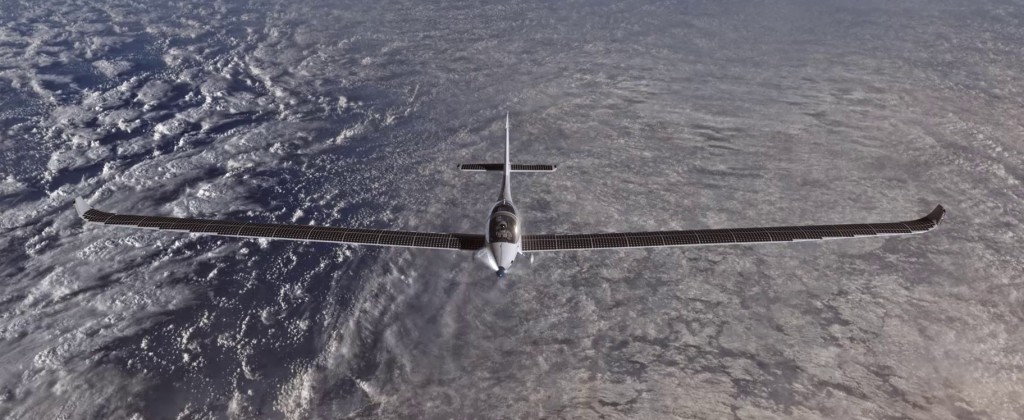 Simulator
In order to ensure optimum flight safety, we have acquired a SolarStratos simulator to train future pilots in flying the plane. This will make it possible to view the inside layout of the cockpit and test the systems. The simulator will also be an excellent communications resource for SolarStratos and its partners everywhere it is displayed and used.
The Moon Race
In collaboration with SwissApollo, the SolarStratos team supported the unique and historic encounter between two great living legends of the conquest of space during the "Moon Race" lecture show. Buzz Aldrin, pilot of the lunar module during the first moon landing by Apollo 11 in 1969, and Alexey Leonov, the first cosmonaut to do a spacewalk in 1965, appeared together on the same stage on November at the SwissTechCenter, at the Swiss Federal Institute of Technology Lausanne (EPFL), before an audience of some 3,000 fans and enthusiasts. It was a great privilege to be able to shake hands with such people – and welcome partners and friends of SolarStratos!
COP 21
The United Nations Conference on climate change was held in Paris from November 30 to December 12, 2015. Our project had an excellent spot in the Switzerland and Monaco pavilion in the Grand Palais, and was a great opportunity to show visitors that change is possible.
1000 likes
On September 27, we reached our first 1000 fans on Facebook. Are you among them? Have you liked our page yet? Don't delay – click here! Next year's target is to reach 5000 likes! Thank you in advance for helping us to grow our community!
New logo and visual identity
With the help of our new partner Vert-pomme communication, we've put together a new visual identity. This will be gradually implemented during the course of 2016. Stay tuned…
New partners
This newsletter would not be complete without mentioning the partners who have joined us this year. Thanks to them, we're getting closer to achieving our goals.
A huge thank you to our first Official Partner, C.I.E.L. Société coopérative, for its unwavering support over the years; to Kindercity, for their support during COP21; to Wavestudios with their magical sounds; to Swiss Strato, and lastly to the COGENER fund, for their help in seeking to optimise the performance of our solar modules.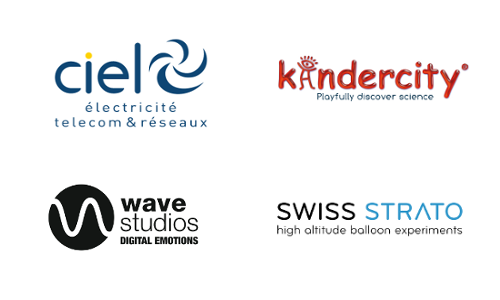 First employees
2015 also saw the arrival of SolarStratos' first official employees. Jean-Marc Badan took up the position of CEO on January, followed closely by Alexis Domjan, heading up Webmastering and telemetry, on March 1. Then Victor Korewa joined the team on October 1 as communications and partner manager. And of course there's Thierry Plojoux, our second pilot and marketing development manager for the Middle East. Welcome to them and a big thank you to everyone who's helping us in this adventure!
StratosTime
In the December 2015 number of StratosTime, you'll find a short video report.
2015, a year of discretion, is drawing to a close. And on the back of all these discreet developments, I and my team will be thrilled to see you again in 2016 as we continue our adventures together!
All of us here at SolarStratos wish you a happy festive season and all the best for 2016.
Thank you so much for your support; please continue to keep up with our news!
Raphaël Domjan, initiator and pilot
The Paris Climate Change Conference COP21 opens in a few days.
The SolarPlanet Foundation and the SolarStratos mission will be participating in this global event, which will hopefully lead to a treaty that is beneficial to our environment.
To support this and our projects, we will be present at the Solutions COP21 exhibition at the Grand Palais in Paris. The solar kayak will be visible on the Swiss and Monaco stand. We invite you to meet us there on Saturday 5 December between 10:00 and 12:00.
The simulator of the world's largest solar boat as well as several films on our different adventures, including SolarStratos, will be visible in the eco-truck that will travel between Le Bourget and the Grand-Palais (more information here).
Programme :
From 4 to 10 December, from 10:00 to 18:00 – COP21 Solutions Exhibition – Grand-Palais, Paris
Saturday 5 December, from 10:00 to 12:00 – Meeting with the SolarPlanet and SolarStratos teams
Saturday 5 December, at 16:00 – Conference by Raphaël Domjan at the Théatre-Sénart, Lieusaint-Sénart
Monday 7 December, at 8 pm – Conference by Raphaël Domjan at the Fondation Suisse / Pavillon Le Corbusier, in Paris
From Friday 11th to Sunday 13th December, solar kayak visible on the Nautiraid stand at the Paris Boat Show